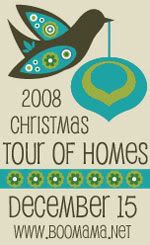 Jonathan's mom here!  Welcome to our home!  Our son turned four on Wednesday, and he's really into the details of Christmas this year, including the decorations.  I thought I'd include you in the fun of his influence of our Christmas (and some influence of my own, as well.)  Enjoy!


He wanted to help with the ornaments, so the part of the tree that he can reach has a preschooler's touch.
Note the placement of the candy canes.  We grin every time we see it.
Here they are with the lights for effect.
And here's the whole tree.  We love putting our tree up right after Thanksgiving.  I have a December birthday, too, and I really love having the tree up for my birthday.
One of my favorite things about this house is that I can put garland up the railing and up on the playroom "windowsills."
Here's more of Jonathan's work.  He was so proud to tell Daddy that he "decorated the office for Christmas."
I had these little things in groups, but Jonathan keeps rearranging them, one in each corner of the counter.
He also decorated his play kitchen with red stars for Christmas.  It's
very
important that the stars don't fall down.
And, here are our stockings.  (I still need to put Jonathan's name on his...)  The teeny one on the right is also Jonathan's work.  He found it in our Christmas tub and decided that it must be for the baby (who is on the way.)  He also wants each stocking holder to be carrying something, whether a finger puppet or a fire truck.
Here's one thing I'm thankful to share:  my Christmas dishes.  Over the past few years, my friends and family have been generous to help me collect a set of Christmas dishes.  We use them all month long.  (Having a December birthday has helped me collect these!)  Thanks to family and friends who have given these to me (from Target.)
There's one more thing I wanted to share with you:  the special arrangement of the Nativity sets.  But, our camera officially stopped working...so I'll have to save that for next year!  Hope you enjoyed our little tour!
And, because we're supposed to share a favorite recipe on this tour, here's an easy one from me.  Enjoy!
Crustless Pumpkin Pie
15 oz. Pumpkin
12 oz. Evaporated skim milk
2 eggs
2 egg whites
3/4 c sugar
1 t ground cinnamon
1/4 t ground allspice
1/4 t ground ginger
1/8 t salt
1/2 c graham cracker crumbs
whipped topping, optional
Oven 325
In a bowl, combine pumpkin, milk, eggs, egg whites, and sugar. Beat until smooth. Add spices and salt. Beat until well-mixed. Stir in graham cracker crumbs. Pour into a 9-in pie plate coated with nonstick spray. (I used a square, 8x8 glass dish.) Bake at 325 for 50-55 min. or until a knife inserted in the center comes out clean. Cool. Garnish with whipped topping if desired.